Professional IT Support Central Coast NSW
Chewing IT specialise in IT support for Central Coast businesses which includes managed IT service plans, on-site, phone and remote IT support.  Our team can put together a cost-effective monthly plan that is tailored to your specific needs and requirements.
We know that dealing with IT can be a stressful and complex experience for many Central Coast business owners, but when you engage the services of Chewing IT you can rest assured that your IT operations are well taken care of and planned out in a hight professional manner. We take the stress out of technology and have your business IT running seamlessly.
Every business, whether small or large need effective IT support and technology systems to increase productivity. Being highly aware of the importance of IT support services, particularly the big and small changes in its structure, along with its costs and demands, portray a sense of dedication and reliability while assuring more streamlined operations. Our IT support services span a wide array of problem-solving and innovative resources.
What is IT Support?
IT support covers a broad range of areas such as telecommunications, email and cloud file storage, server upgrades and migrations, backup and disaster recovery, network and computer security and wireless installation and support.
IT support is an extremely important part of your business and our overall goal is to provide solutions to customers that will solve their individual problems and set up their systems based on individual requirements.
Our IT Support services include a full managed IT service, IT support and pre-paid IT support.  With our professional IT services, we can help businesses can plan, implement, and manage the right technologies to meet business objectives.
Our IT Support includes Managed IT support, Prepaid IT support and On-Demand IT support. Depending on your business objectives and requirements will depend on the type of IT support that we think will be most beneficial for your business. We will discuss this with you to ensure we are supporting your business the right way.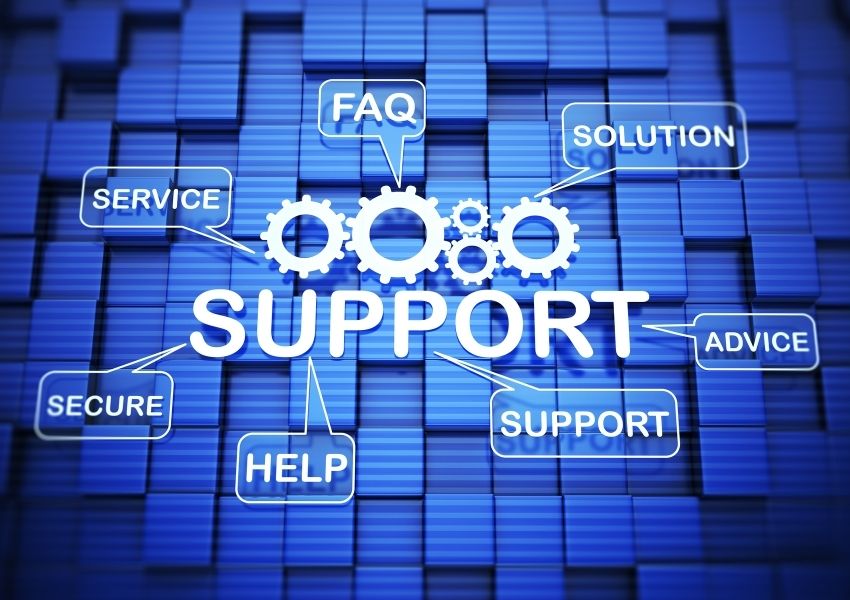 Types of IT Support Central Coast
Managed IT Services - Central Coast
Using an external managed IT support service from Chewing IT ensures you get everything you require and expect at a much lower cost. This allows you to focus on your business while your IT is being taken care of.
Prepaid IT Services - Central Coast
Our Prepaid IT Support service Central Coast is easy on the pocket and easy to understand. There are no fixed-term contracts. You simply order a prepaid block of IT Support hours to use at any time. Use your block hours for essential IT maintenance and other IT services as the need arises. Every hour is accounted for, and all work is thoroughly documented, so you know how every dollar is being used.
On Demand IT Support - Central Coast
Our ON DEMAND SUPPORT service is the answer to all your IT problems. It's for those annoying Windows, MAC or server error messages, computer crashes, lost files and virus warnings. It's for ad hoc IT improvements that are going to help your Central Coast business reach its full potential; for example, adding Office 365 or cloud data storage. It's for simply picking up the phone and saying help.
On-site IT Support - Central Coast
Our mobile IT consultant can attend your Central Coast business site to diagnose and repair any IT-related issue. We can also install and configure new hardware and advise you on maintenance and potential business IT improvements.
Many IT problems can be prevented with regular IT maintenance - find out more about our NO CONTRACT MANAGED IT SUPPORT SERVICE.
What are the Benefits of IT Support Solutions?
Here at Chewing IT, we offer multiple IT services for Central Coast businesses. We are all living in a fast-paced technological era, and the success of the business is hugely dependent on the use of IT solutions.  These solutions offer essential benefits to businesses irrespective of their size and are a vital success factor. Purchasing and maintaining new technologies can be extremely daunting, but employing the IT services of a company like Chewing IT will take the stress away so you can focus on the rest of your business. Whether you need ad-hoc support like getting a computer running or more month to month managed IT support we have a wide range of services to meet your requirements and budget.
The primary advantages of using the IT support Central Coast that Chewing IT offers include reduced costs for using an external service to maintain your IT systems, increased business availability and improved focus on core activities by the company. We take care of your IT needs, so you can get on with the most important aspects of running your business.
Effective Data Management
We ensure that your business has a backup system in place. Businesses carry so much data these days and without an efficient backup system, it can cause issues down the track if they have any sort of security breach.
Protects you from Viruses and other Security Breaches
IT support services ensure the security of your computer systems from a variety of viruses and other online threats. When you employ the services of Chewing IT we ensure that you systems are secure at all times and there are no known vulnerabilities. This helps to keep your business and all your important information safe and secure while assuring you of the long term protection of using our services.
Quick Resolution of IT Issues
When your business is experiencing technical issues and outages, it is imperative they are fixed as soon as possible to minimise downtime.
Why is IT Support so Important in Business?
IT support covers a broad range of services and industries. Without it, it would be impossible for businesses and society to expand progress, expand their network, and attain success. From simple processes such as data input and keeping records to implementing complex operations and keeping our customers satisfied and protected, advanced systems encompass what traditionally arranged work setups can do.
If you ever find yourself in urgent need of IT support services on the Central Coast, Chewing IT is the team for you,
Suitable for All IT Infrastructures
Chewing IT supports all devices to ensure you have instant access to professional IT Support for your Central Coast business
Get in touch for your Free Consultation
Our team will support your business IT requirements