Cloud Email Solutions Central Coast - Convenience & Flexibility
Ensuring your business emails and file sharing is safe and secure is a major issue for many Central Coast businesses. Chewing IT specialises in cloud email solutions on the Central Coast and can set up your Cloud email through Microsoft Office 365, which has the additional option of including Microsoft Outlook, Word, Excel, PowerPoint, One Note, OneDrive and SharePoint within one easy subscription.
Cloud services are becoming more and more prevalent and are certainly the way email and storage solutions are going. Email is one of our prime services and there are major benefits to using cloud-based email. Reliable email functionality is crucial in our world today. It helps you to stay organised, communicate easily and run your business smoothly. Cloud email has basic functionality like sending, receiving, and storing email and what makes it different is the added security and reduced maintenance. Chewing IT takes care of all your email security needs to ensure you are not compromised in today's online environment.
For today's mobile workforce, email and file sharing between people and devices are vital to maximising productivity. The Cloud provides maximum flexibility and convenience to manage your emails and share documents from anywhere at any time.
Why Choose a Cloud-Based Email
A cloud-based email will synchronise across devices, giving you easy access and simple administration. The Cloud is more stable than server-based email and has no server maintenance or upgrade costs.
Cloud Backup Solutions
Business owners often wait until they have experienced a data loss before they set up a backup system. Cloud backup solutions are cost-effective and one of the best protection you can add to your Central Coast business as we move into 2022. Chewing IT, a Central Coast managed IT service provider, explains how SkyKick Cloud Backup could be your new best friend.
What is SkyKick Cloud backup?
SkyKick is part of Microsoft's Cloud services. It offers unlimited backup and storage, including data for deleted users. There is no time limit for retaining data, providing you have an active Cloud backup service. Microsoft Cloud backup solutions operate seamlessly in the background without the need for any onsite hardware or software. All backup data is stored in a secure and encrypted state by SkyKick on Microsoft Azure, its exclusive public Cloud infrastructure provider.
Cloud Email Solutions Central Coast
Our cloud services are secure as the IT company that sets it up for you. At Chewing IT, we use Microsoft Office 365 Advanced Threat Protection to secure your email and documents from malware, viruses and attacks. Think of it like your own personal security guard searching every document before it even enters your system! We also use the latest encryption and backup software for the ultimate Cloud security.
Cloud is cost-effective, scalable ad more flexible. Ensure your business data is secure and protected including your emails, calendars, contacts and notes. In addition, SharePoint libraries and data, OneDrive files and folders, and data stored and used by Microsoft 365 Groups and Microsoft Teams will be backed up to the Cloud.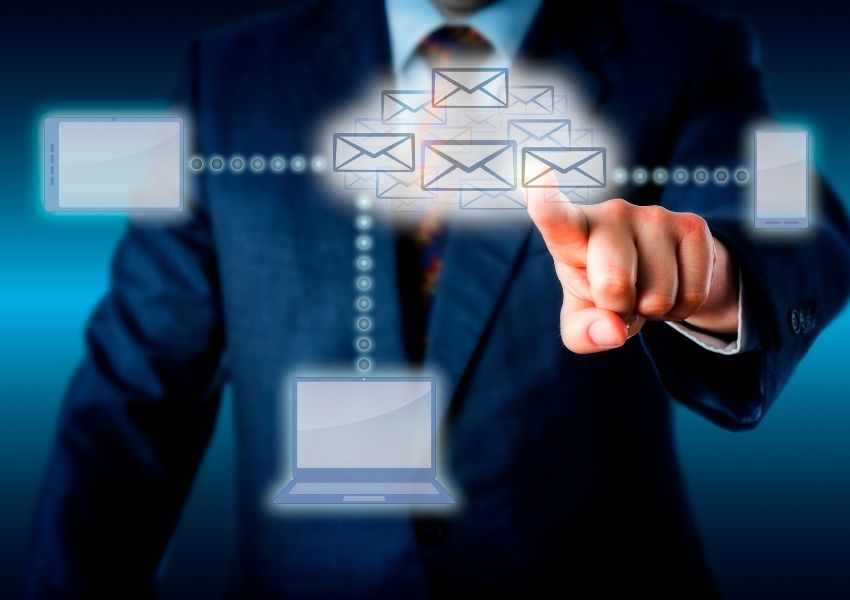 Chewing IT - Cloud Email Solutions Central Coast
Hosted Email Services
While we recommend Cloud email solutions, if you prefer a non-Cloud email service, Chewing IT can set up your email on a Microsoft Exchange server. Microsoft Exchange is a hosted email service that allows you to access emails at any time. Exchange emails automatically sync across devices for convenience.
Cloud File Sharing for Central Coast businesses
Setting up file sharing enables maximum efficiency as teams can access documents and collaborate from any location, even at home. Microsoft Office 365 SharePoint is an online collaboration tool that lets you share files and documents through Cloud storage. Many Central Coast businesses are seeing the benefits of adopting Microsoft SharePoint for file sharing – ask Chewing IT for a demo.
Benefits of Cloud Email Solutions for your Central Coast Business
There are many benefits to having a cloud-based email solution for your business and Chewing IT can help you to secure your emails and ensure they are backed up at all times.
Cost Savings
Cloud-based email is a subscription service model, which provides significant cost savings for implementing and maintaining the environment. By switching to cloud-based email you are getting rid of a large capital outlay for server expense and maintenance and converting to a monthly or annual operational expense.
Flexible Scalability
The scalability of cloud-based email allows for an increase in future email capacity without having to do any major changes to the environment itself. With the increase in scalability that cloud-based emails offer, your business can experience and benefit from the simplicity of being able to adjust your user license counts, storage capacity, and compute capacity either up or down, depending on your specific needs.
Improvement of Uptime
Businesses that use cloud email services will have better uptime, which allows for more optimal email usage than businesses that still rely on the on-premise server-based solutions.
Improved Security
When you use cloud-based email systems, your business emails will reside in an off-site, highly protected location, making them more secure than if it were on-premise. A cloud-based email provider like Microsoft 365, can devote many more resources to securing their facilities than most other organisations out there.
Microsoft 365 Business Intro


If you are a Central Coast business that wants to take your email, file sharing and cloud collaboration tools to the next level, contact Chewing IT today!
Suitable for All IT Infrastructures
Chewing IT supports all devices to ensure you have instant access to professional IT Support for your Central Coast business
Get in touch for your Free Consultation
Our team will support your business IT requirements